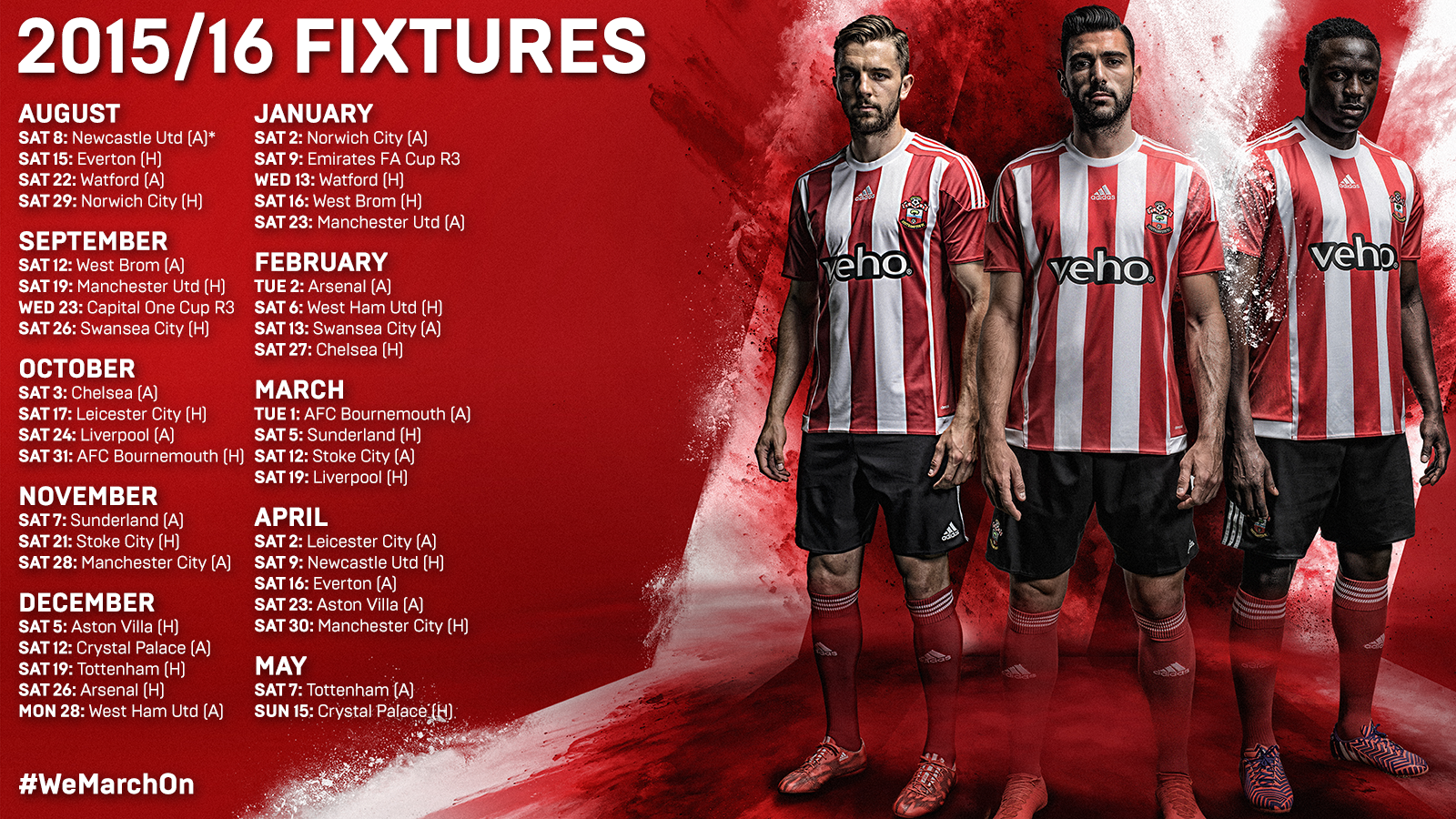 Saints will kick off their 2015-16 season with a long trip to Newcastle United - a game that will be rearranged from the provisional Saturday 8th August slot due to our involvement in the Europa League third qualifying round.
Our first game at St Mary's will see Everton's own goal heroes visit, and we end the campaign with the visit of Crystal Palace. Boxing Day is also a home fixture this season, with Arsenal travelling down the M3.
The "New Forest Derby" (really??) will be at St Mary's first on 31st October, with the return a rather annoying midweek (1st March).
If we progress through the various rounds of the Europa League into the group stage, we would end up with nine fixtures moved to the Sunday (or Monday, possibly) in the first half of the season alone. These (and potential clashes with the knockout stages in the new year) are marked with asterisks in the full list below.
Full List:
AUGUST
08: Newcastle United (away) *
15: Everton (home)
22: Watford (away) *
29: Norwich City (home) *
SEPTEMBER
12: West Bromwich Albion (away)
19: Manchester United (home) *
26: Swansea City (home)
OCTOBER
03: Chelsea (away) *
17: Leicester City (home)
24: Liverpool (away) *
31: Bournemouth (home)
NOVEMBER
07: Sunderland (away) *
21: Stoke City (home)
28: Manchester City (away) *
DECEMBER
05: Aston Villa (home) *
12: Crystal Palace (away)
19: Tottenham Hotspur (home)
26: Arsenal (home)
28: West Ham United (away)
JANUARY
02: Norwich City (away)
13: Watford (home)
16: West Bromwich Albion (home)
23: Manchester United (away)
FEBRUARY
02: Arsenal (away)
06: West Ham United (home)
13: Swansea City (away)
27: Chelsea (home) *
MARCH
01: Bournemouth (away)
05: Sunderland (home)
12: Stoke City (away) *
19: Liverpool (home) *
APRIL
02: Leicester City (away)
09: Newcastle United (home) *
16: Everton (away) *
23: Aston Villa (away)
30: Manchester City (home) *
MAY
07: Tottenham Hotspur (away) *
15: Crystal Palace (home)